For Immediate Release
FFS® Kicks Off Its Operation in Saudi Arabia

FFS® has acquired the commercial license to operate officially in Saudi Arabia, with a regional office in Riyadh
Dubai, United Arab Emirates – Monday, 10 July 2023, FFS Software Solutions Company LLC (FFS®), the first-choice software provider of today's digital customer experience software solutions announced kicking off its Saudi Arabia operation.
As part of FFS commitment to its clients and to become closer to them, FFS has acquired the commercial license to operate officially in Saudi Arabia, with a regional office in Riyadh. This move enables FFS to work closely with its clients and ensure the right consulting and support are in place to help them use FFS products. Precisely, to transform their business to become fully digital with the best customer experience.
"FFS is committed to its clients wherever they are, with the most innovative customer experience products you will find in the market. Part of our decision to expand in Saudi Arabia is to meet the need of demand and request of our customers in Saudi Arabia, with the booming economy and rapid development to meet Saudi 2030 vision."
Stated Mr. Haitham Al-Faris, Chairman and CEO at FFS®
FFS® COO Mr. Ahmed Samir commented on the announcement stating: "We are thrilled to announce our operations' expansion to Saudi Arabia. FFS is dedicated to making our customers' end-users experience phenomenal. With our dedicated and highly qualified consultants and innovative team members, I trust that we will bring the highest added value to our customers. Our pillars of success consist of the Triple P's (Process, People, Products). Our well-defined Processes carried out by the People (the most efficient and innovative consultants and team members) used to deliver the best Products to our esteemed customers."
FFS® Products are:
FFS has built products that can integrate transactional systems and customer interactions into a unified platform to deliver consistent customer experience across all channels.
DigiXP: A Middle-Office Unified Digital Experience Platform with the most complete omni-channel digital solution based on microservices flexible architecture. This provides a broad range of audiences with consistent, secure, and personalized access to information and applications across many digital touchpoints, to bridge the gap between customer interactions and the transaction system and run all your business operations virtually from end-to-end.
CXLink: Running on top of DigiXP, it has a component to choreograph series of events to track customer interactions and transactions across all integrated channels and touchpoints, then respond appropriately with tailored content mapped to customer behavior and needs.
eMasraf: Running on top of DigiXP, it is an innovative and fully functional digital banking solution for consumers and corporates, web and mobile. It has all the customer experience features of DigiXP, with a flexible and decoupled presentation layer from business logic enabling banks to modify the frontend in the way they like.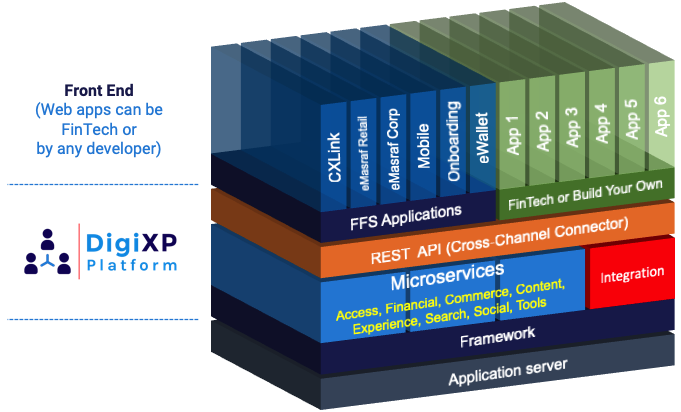 CALL US TODAY TO SCHEDULE A DEMO FOR FFS PRODUCTS
About FFS®
FFS Software Solutions Company LLC (FFS®) is a UAE Company, headquartered in Dubai, with regional offices and presence around the Middle East.
FFS® First Financial Solutions (FFS) is a leading software development and consulting firm focused on making digital businesses more efficient and effective.
FFS® aims to the First Choice financial software solutions provider to digital businesses wherever they are. FFS® will focus on providing solutions to enhance the financial, technical and business capabilities of customers. For more information, please visit: www.FFSCompany.com
Press Contact
PR@FFSCompany.com
FFS Software Solutions Company LLC
Tel: Operator +971 4 705 0341 | Direct +971 4 705 0342 | Fax: +971 4 705 0301